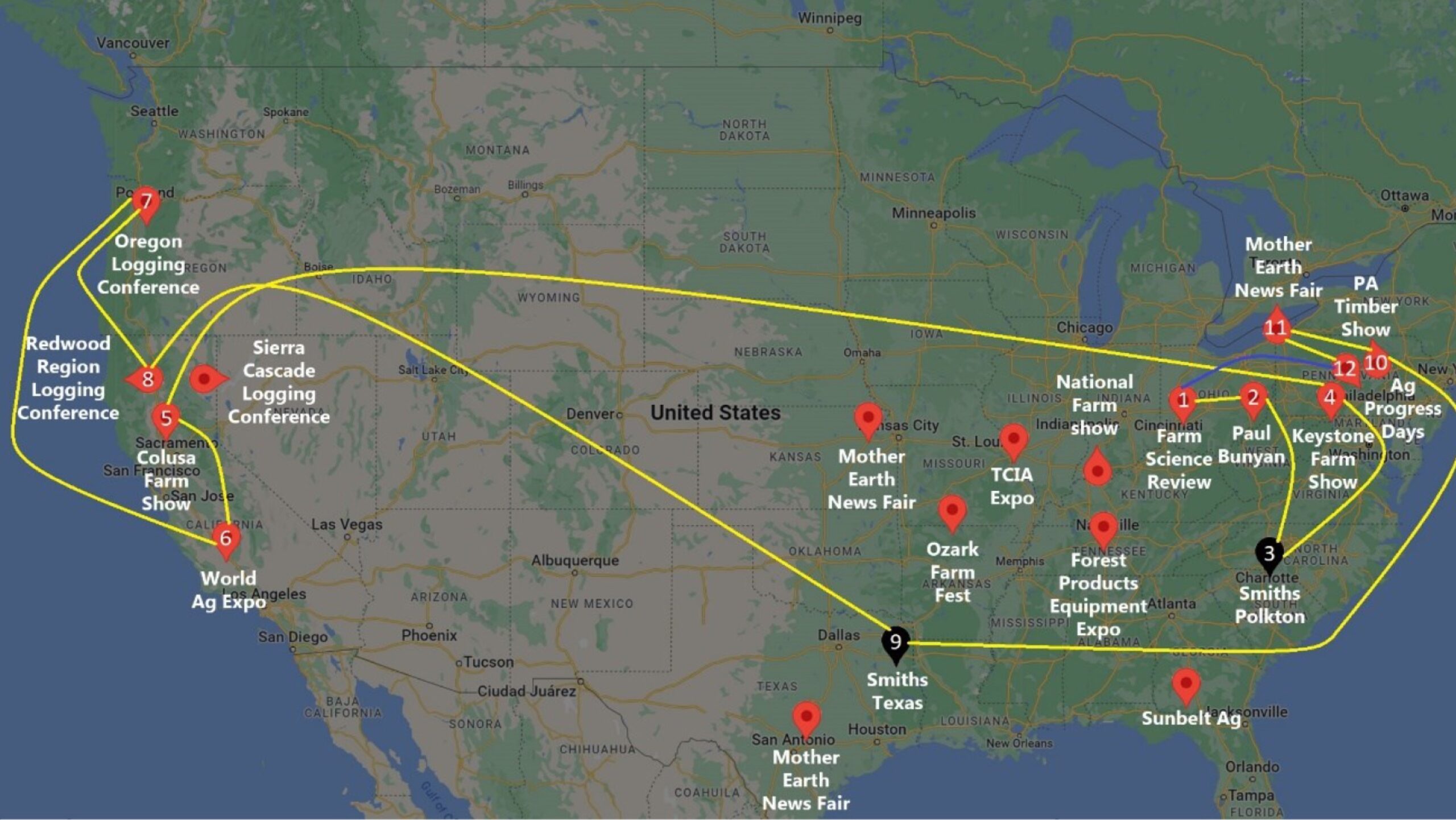 Date: September 19-21, 2023
Location: London, OH 43140
Jay and the team at Smith Sawmills were in attendance:
Day 1: Getting ready for another busy day on this beautiful Ohio morning; people are lined up for day 2 of the Farm Science Review. Over 500 exhibitors have shown up, and they're expecting over 100,000 visitors this year!
Day 2: The sun is rising on what is sure to be a busy last day of the 2023 Farm Science Review. The area is beautiful, the people are great, and the show has been amazing!
Day 3: Sunshine, blue skies, and timber…what more could you ask for? The answer, heavy machinery, but they've got that too at the 2023 Mid-South Forestry Equipment Show in beautiful Starkville, Mississippi, home of MSU (go Bulldogs!)
The longest-running, live, in-woods equipment demo in the south! Friday, September 21st and Saturday, September 22nd.
See you next year!
Date: October 6 - 8, 2023
Location: Cambridge, OH
Setup: JUST arrived at the Guernsey County Fairgrounds for the 2023 Paul Bunyan Show, Friday, October 6 through Sunday, October 8. Dropping off the sawmill after our 1000miles trek!
Day 1: Turbosawmill is set up & ready to go; come by our booth tomorrow thru Sunday, October 6-8, at the 2023 PAUL BUNYAN SHOW!!!
Day 2: Gotta love Ohio in the Fall! We're having a blast on the 2nd day of the 2023 Paul Bunyan Show: it's going to be another beautiful day tomorrow, plenty of time to come and visit the Turbosawmill booth! Sunday 9am-3pm
Day 3: Wrapping up the 2023 Paul Bunyan Show. We had a great time doing live Turbosawmill demos for the wonderful people at this amazing event! Already looking forward to the 2024 Paul Bunyan Show! We will be at the Sun Belt Ag Expo, and beautiful Moultrie, Georgia, October 17th thru the 19th!!!
Date: October 17 - 19, 2023
Location: Moultrie, GA
First day at the 2023 Sunbelt Ag Expo; it's a beautiful, sunny day in Moultrie, GA!
Come by and visit the TurboSawmill booth for event specials:
•LogRite; cant hooks, peaveys, and hookaroons w/show-special pricing
•MDI timber metal detectors
•$1000 accessories bonus w/automated purchase
•$500 accessories bonus w/manual purchase
Message our team today, wherever you are in USA, and we'll get right back to you.