Operational Information: Swing-blade sawmill
Helpful information from the team at Turbosawmill, the manufacturer of the world's premier Swing-blade sawmill, available across the USA.
From time to time you will need to check over your adjustments to ensure your mill is performing 100% efficiently.
Please find a quick guide to help you along.
Find yourself a large diameter log to begin the process. Remove the top face with a series of small cuts (to ensure that your blade will not get hot). Ensure water is flowing. Lower your mill around 3mm and perform a series of 2" horizontal skim cuts across the log's face (this ensures that the face is 100% flat). Remove the guard. Turn the mill off and push it back on to the slab face. Position the horizontally flat blade to the center of the log face.
The swing blade operates a little differently from a bandsaw. Typically, the bandsaw rotates the log four times to remove four sides and de-stress the log. At that point, you can flat saw down to a point leaving straight boards, but once these flat wide boards are re-sawn into smaller boards they still bow out via crook (depending on the timber stress levels).
With a swing blade, we do not rotate the log. Instead, we saw progressively through it, so it is important to understand a few fundamentals.
There are two styles of sawing on a swing blade:
• QUARTER SAWING • FLAT SAWING
Quarter sawing requires you to source the boards vertically toward and around the heart. Flat sawing requires sourcing boards horizontal to the heart or flat around it.
Quarter sawing offers the structural quality option, but these boards tend to crook off the log leaving it difficult to straighten. Whereas a flat sawn board provides a very straight beam (with an easy to flatten bow). The negative of flat sawn boards is they tend to cup and deform during drying. Attached are two pictures showing the difference between the two styles.
How you can use the Swing-blade to edge like a bandsaw & thickness like a planer
Our automated swing-blade models offer a great solution for this. Waney and crook boards are easily dealt with on this machine (provided you have oversized each board sufficiently). When re-sawing crook boards, the side-off cuts may be re-used for fillets (an ideal use for rubbish timber).
These boards should be stacked and staged near your mill for eventual re-sawing.
When you are ready to resaw; leave a half-cut (stable) log on the mill with its side edge intact as shown in the attached diagram. Place the crook/wane board so that the concave side is pushed up against the side edge of the log, then position the saw while vertical and drive forward in the cut moving away from the operator on each side of the crook board. This leaves a perfectly straight-edged board. Because you are moving forward with a regulated feed rate the board is being pushed into the log face, reducing any potential movement during sawing.
However, if you are dealing with extremely light timbers, it is best to have a lip at the operator's end face of the log, preventing any chance of the boards ejecting back toward the operator. Just screw a small flat timber board ledge in front of the boards to be re-sawn (sticking up maybe 1").
This process is incredibly useful (especially when dealing with stressed eucalyptus trees, as there is no other way to get quality timber from these logs).
Working with a swing blade doesn't require steel bunks or log dogs. In fact, they work best without these.
Timber bunks are ideal as they allow the sawyer to get down to the very last board from your log without the risk of hitting steel.
You will note a few suggestions on our layout:
Three bunks are ideal as this prevents sag when milling at the bottom of the log. One of the biggest issues is getting thick and thin boards due to log sag. The third bunk works to solve this.
We show a smaller bunk at the center along with two wedges that can be hit against each other which serves to support the center of the log.
You will also note that a square cut-out in your bunk works great to cradle the workpiece from moving. However, we are suggesting something a little extra; raise the right-side edge so that it supports the rear of the log. One of the annoying trends is when you are cutting a deck of large boards in the vertical; the weight shifts proportioned to the right. So, two thirds the way through the log, it rolls. These higher right-side edges help with this issue.
7" wide square cut-outs are good for logs up to 20" in diameter. Anything larger will require 8"-9" square cut-outs.
It is best to keep your walking area clear from obstacles. You don't want to be stepping over your bunks or sawn scraps on the ground.
Also, note that it is best to leave some strength (or side material intact) so that your log does not deform when sawing the last few boards.
In addition to this setup, it's advisable to use small wedges for additional log support. These may be removed from the sawn side so that you can get right down to the last board.
These bunks will work well for all our swing-blade models. You will just have to space them out depending on your working length.
The swing-blades offers unmatched simplicity in operation. You start at the top and work your way through the log selectively choosing your timber sizes, all the while working around knots and defects.
This is a step-by-step example showing the motions of the swing-blade.
Quarter and flat sawing follow the same principle however each board is precisely removed according to the heart.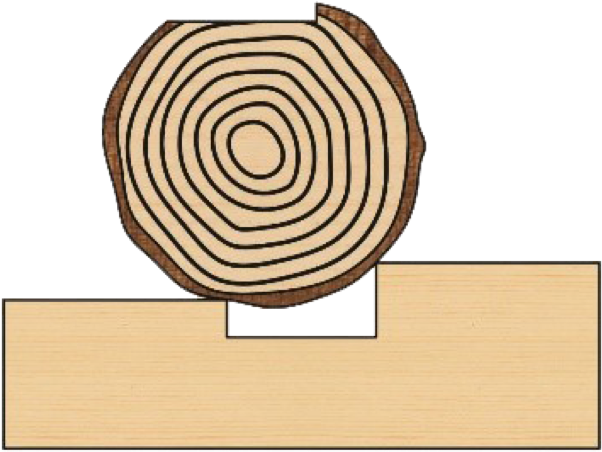 The top face of the log is removed section by section through a series of horizontal and vertical cuts. Once a large enough face is revealed the saw is then dropped down. In this case, we have chosen to drop down 2".
Here we have chosen to cut a 2" x 8" in the horizontal.
Note: wide cuts in the horizontal need to be taken in two runs (4" followed by the final 4" to give 8").
Next, we've opted to drop down 6". A series of vertical and horizontal cuts are shown.
1 x 6" x 6" beam.
3 x 2" x 6" boards.
1 x 1" x 6" board.
We've now dropped the saw head down another 2" and have chosen to remove a double cut 16" wide.
You need to pivot the horizontal guard out of the way to allow the left side of the blade to cut on the right side of the log.
Once again, we have dropped the saw down another 2" to recover:
1 x 2" x 4".
1 x 2" x 8".
Note, it is best to leave the right edge of the log intact to allow some strength to remain in the log. This prevents the log from sagging during the last bottom cuts.
The last board is then removed from the log, leaving minimal waste.
It's important to note that when you are sourcing the last few boards from the log it is critical that you take each horizontal cut in smaller increments so that the blade has minimal tendency to move the slab.
Also, note the log bunk arrangement for optimal support.
Now compare that to band costs. A narrow band blade should not be run for more than an hour. We have been advised that to ensure the best quality timber a band should not be run for more than 40 minutes. A band blade will allow between 4-9 sharpens before it is binned.
Sharpening will require good skills and may take anything between 3-10 minutes depending on teeth. Band cost may be around $25-50 depending on the manufacturer.
We would expect running for around 40 minutes you would hope to cut at least .5 cube (211bf) before needing to sharpen (that's assuming you do not own an edger).
So, that gives you a potential equivalent running cost of $5.55-$11.10 per cube (422bf).
Message our team today, wherever you are in USA, and we'll get right back to you.